Now, a personality is a very complex thing, and as a result, it has many sides. That's why, in different situations, you act differently. The mind is smart enough to know how to react in different situations. This is especially true in set personal groups you may have. For instance, in my premed group, I play a different role than I do at work, and a very different role than I played in high school.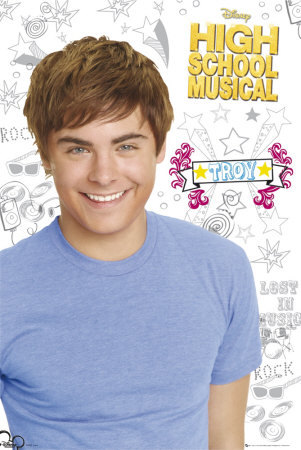 --This was not my role in highschool... i was more talented--
That being said, no matter what situation I am in, there is always a part of me that I always hide. There is a part of me that I don't like to think exists, yet I know it affects me, it's something that I run from, and try to combat, but it is still a part of me. I always have a part of me that is hidden from everyone. It's something darker, those emotions that I think no one should have, that I hide from, and it can be very tiring. My hidden part is a part of me, forged in my past, which is as much a part of me as what I show, but that I never can.
That being said, it has made me strong. When you have gone through horrible things, it affects you. You really only have the options to get stronger, or get gone, and I have gotten stronger. When you can't talk about it, and things inside of you compound, they get worse, and weigh down on you. And you crack.
--Plumbers crack is never OK though... just saying--
You think that no one will ever understand what you are going through, and you know you are right. You know that things will probably never be the same as they once were, and you are right. You know that you will never, and can never be the same person, and you are right. Yet once again, if you can make it though, it makes you strong.
That is why strength is such a backwards thing. Even though I know I am strong, and I am a better person for it, I know what it takes to be strong. That's why I hope the people around me never have to be strong; because strength is just proof of the burden you have to carry.
And I would like to say that it gets better, that overtime, your weights are lifted, that you find relief, but I know that that's not true. Anyone who has so much strength knows that this is true. Instead, your carried weight begins to feel normal, and I believe that really that is better. If nothing else, it is more elegant. Going through difficult situations, just prepares you for worse things, it allows you to go through things others can't. Eventually, bad things don't bother you anymore, and that may actually almost be worth the pain.
--Remember, there is no Rainbow without Rain--
Because you can still be happy. If you acknowledge the past, and keep it in mind, it is like a shield against the bad, and you realize how wonderful life can be. When you keep the pain in mind, the bad doesn't seem that bad, yet the good seems so much better. You essentially have a different baseline for emotion. And it is hard, because you must always have that strength, and carry your past with you, but that doesn't have to hold you back. You can take it, and use it to make you a better person. And this takes a lot of time, and tears, and pain, but you can get there. And when you are there, it is amazing. Life is amazing!
--Wasent really sure why this had to do with life, but it was the first hit when i google imaged it--